Art and Culture in Algeria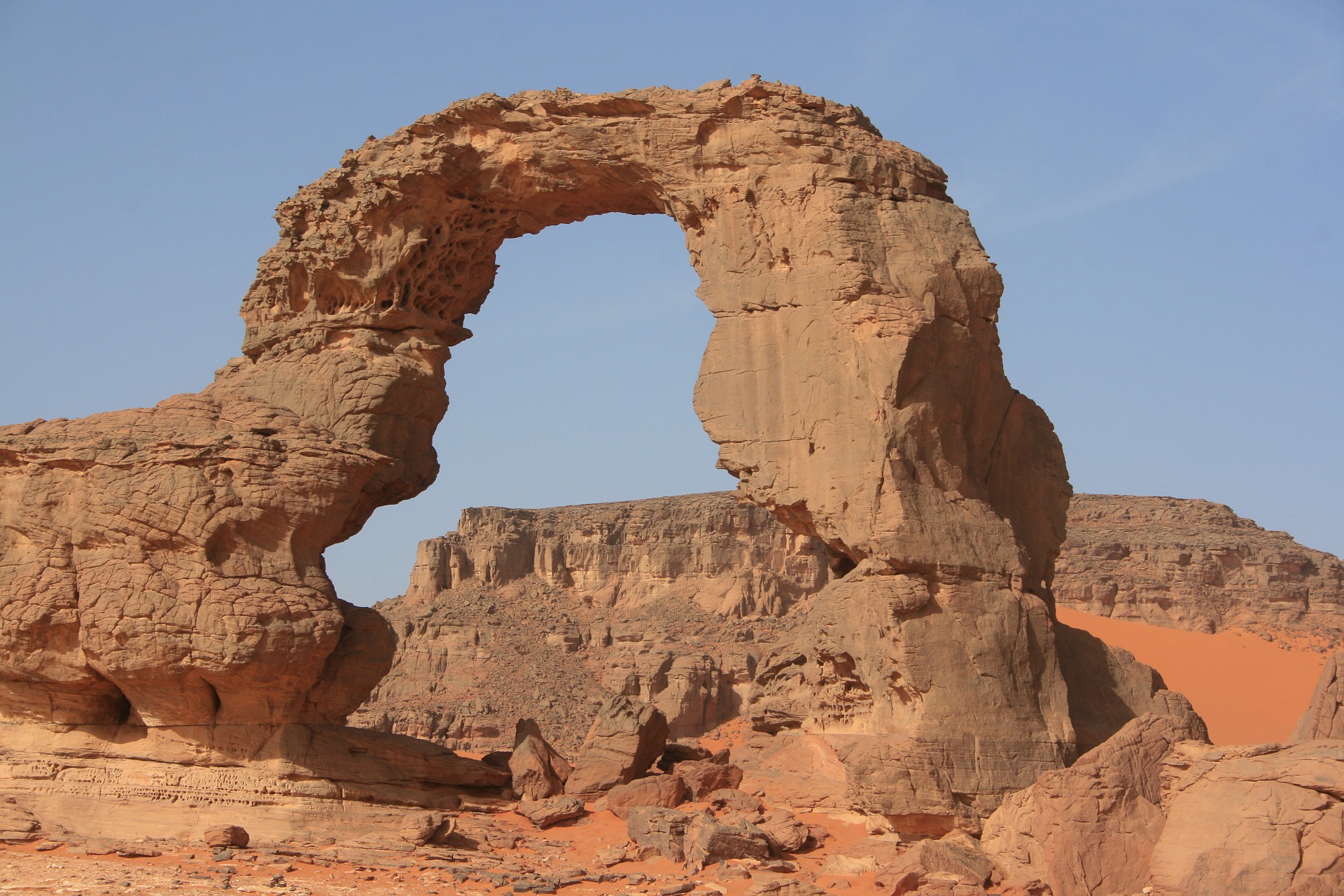 Located in the northern part of Africa and the largest African country,  Algeria boasts of a diverse art and culture largely influenced not only by its past and the presence of many ethnic groups, but also by its proximity to multiple borders within the continent (with Morocco and Mauritania to the west, Tunisia and Libya on the east, Mali and Niger on the south and the Mediterranean Sea on the north).
This geographic positioning adds to the diversity in art and culture in Algeria through religion, music, art and literature, therefore playing a major role in shaping its uniqueness. 
Video: Algeria - Introduction to World Cultures and Customs [ by Ashan Pushpakumara Perera]
Art
From the Hoggar Mountains in the middle of the Sahara Desert to the Tassili n'Ajjer Wilaya of Tamanrasset and Illizi, prominent prehistoric cave art, dotted with drawings and engravings that detail historic events, human life and climate change, proves that Algerian art still reigns supreme! The renown Tassili rock engravings and drawings showcase the creative nature of past civilizations
that continue to influence modern artistry in Algeria and attract tourists from almost all corners of the world. The United Nations Educational, Scientific and Cultural Organization's (UNESCO) world heritage collection features seven Algerian monuments and sites including the famous Islamic city, Kasbah of Algiers.  
In the 60s and 70s, street art was popular in many cities of Algeria. However, the emergence of modern performances led to a decline in this art form. A dedicated number of artists have been working hard to bring back this form of artistic expression. Whether it is through playing music or drawing pictures, street artists and performers are gradually brightening up the streets of the Algerian capital.

Video: Street art gaining popularity in Algeria despite many challenges
Notable features of Algeria art is the heavy use of geometrical shapes and intricate designs that communicate passionate aspects of everyday life, portraying joys and struggles of human life. Whether sculpture forms, fine art and graphics or paintings, Algerian artists are renown to subtly convey controversial subjects in a relatable manner making their work of art a central part of the country's historical archives. Displayed in Musée National des Beaux-Arts (National Gallery of Fine Arts) are countless art renditions of everyday Algerian life by famed artists such as Mohamed Racim, whose work inspired fellow Algerians to pursue independence from French colonialism. 
Le Musée National Des Beaux-Arts d'Alger: Édifié en 1930, le musée des Beaux-Arts d'Alger est une exception. La plus grande collection d'art d'Afrique et de Moyen-Orient! Tableaux et sculptures des premiers siècles primitifs et renaissance jusqu'aux contemporains, Delacroix, Monet et Rodin côtoient Belmondo, Racim et Khadda... Une rencontre entre les siècles, et deux arts majeurs de notre civilisation méditerranéenne: l'art d'Orient et l'art d'Occident.

Video: Le Musée National Des Beaux-Arts d'Alger
Modern Algerian art is still deep rooted in expressing past traditions. Even though the premium of expression has evolved, the message communicated continues to evoke memories of the past.
Ancient clay palaces (known as ksuras) are still rendered in modern art and both embroidery and leather work remain prestigious endeavours as well precious items to own in the modern home. Contemporary crafts and modern paintings align the display walls of museums of art around major Algeria cities and are a major tourist attraction!
Culture
Diversity in music, religion, literature and cuisine bring about a uniqueness to this north African country. Both Arabic and French influences are evident in Algeria's literature with some of its famous poets' (Moufdi Zakaria) and novelists' (Assia Djebar) work widely translated to suit the non-Arabic or French speakers. Folk music remains popular with Algerians regardless of age and the most popular in the airwaves is the opinionated 'rai' music that adds a little hint of pop beats influence and promoted by musicians such as Khaled and Cheb Mami (Ahmed Khelifati Mohamed), who are recognized international stars!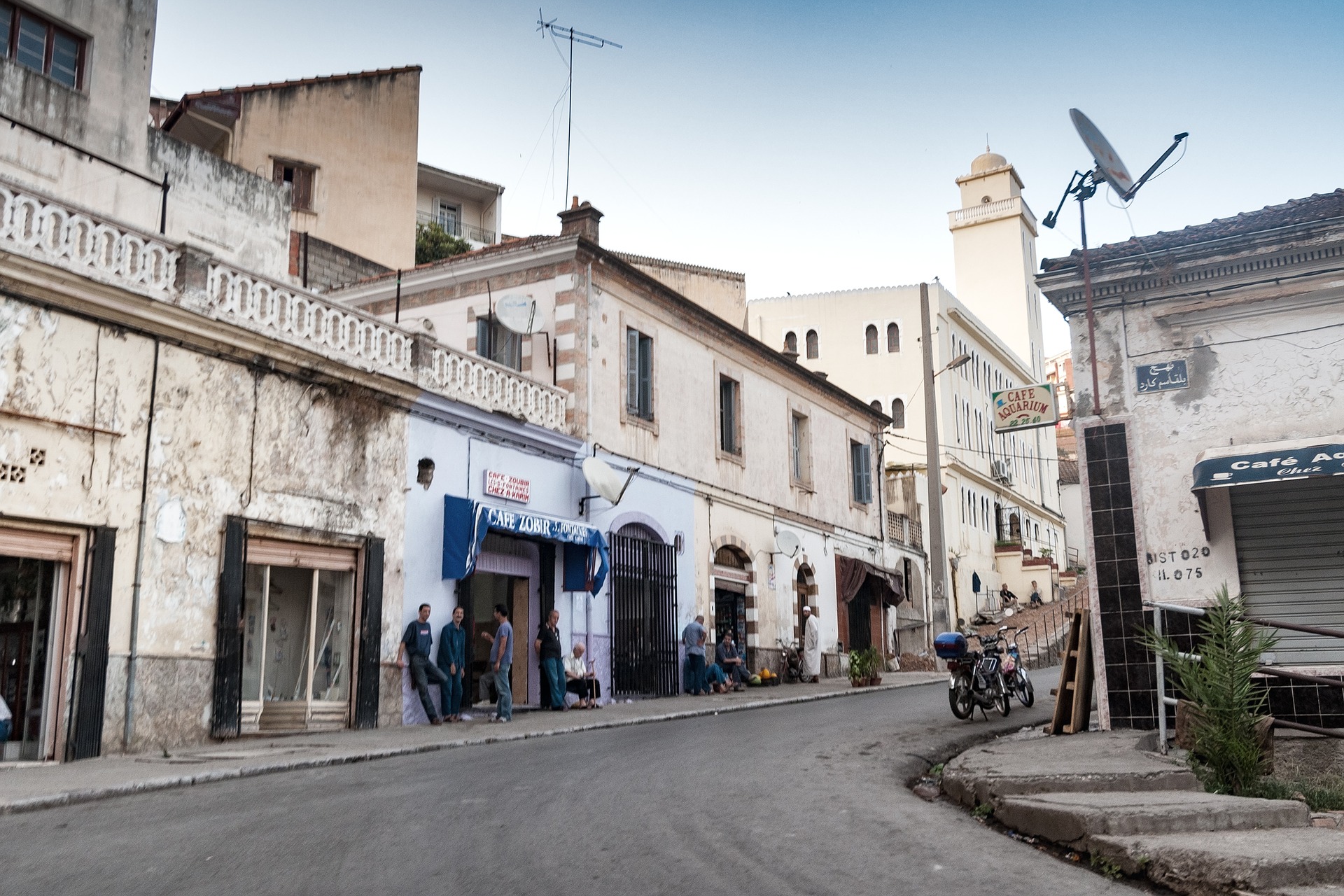 Traditional Arabic and French cuisine's aroma fill the air in Algerian streets with most dishes flavored with Mediterranean spices and influenced by Berber and Amazigh recipes. These mouthwatering and delicious dishes are often dominated by ingredients from local produce and the Khubz which is a traditional Amazigh flatbread and a must-have base cuisine in most Algerian meals. Pork is a big no due to Islamic practices and lamb is prominently incorporated in most Algerian dishes.
Attributing credit to the different civilizations that Algeria has undergone, fashion and style has continued to evolve and illustrates a flamboyance that many other countries would envy! With African, Mediterranean and Arabic influences, Algerian fashion represents a blend of all three. Modesty which is attributed to Arabic laws, intricacy in design and detail, a Mediterranean staple as well as brightly colored African-inspired prints are dominant. Karakou and Djeba Fergani are some fashionable Algerian dresses that exude elegance and class.
It is no secret that the diverse population continues to influence art and culture in Algeria in a uniquely splendid way!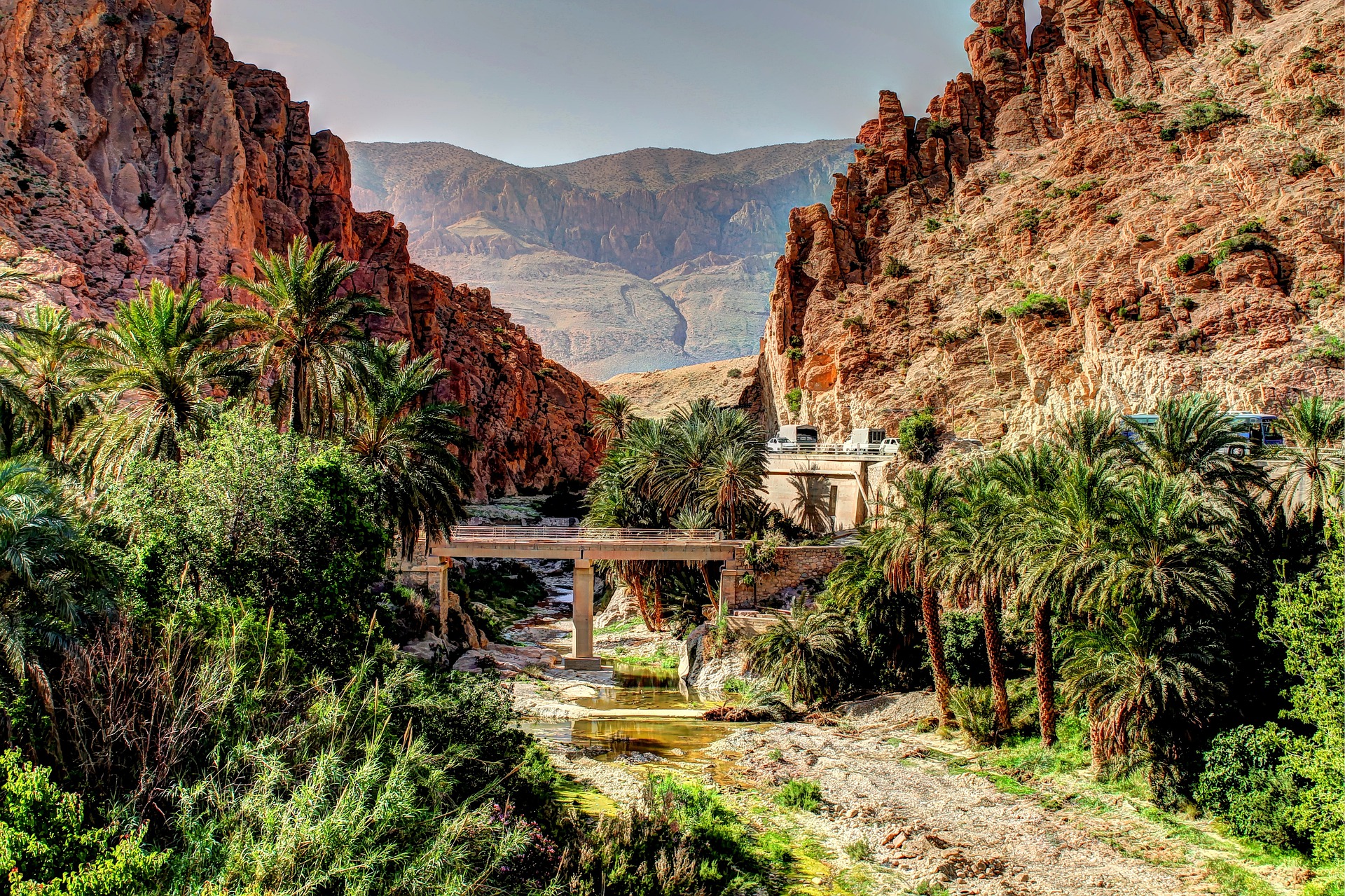 Reference
algeria.com/museums/beaux-arts
unesco.org/en/statesparties/dz
algerianembassy.org.uk/index.php/tourism-a-culture.html
algeria.com/culture
khaled-lesite.com
metrotimes.com/editorial/story.asp?id=2022
algerianembassy.org.my/fashion.htm
---
Back from Art and Culture in Algeria to
Art and Culture in Countries and Continents
Index or Site Map

---