- IAPD -
 Art Pot Day International™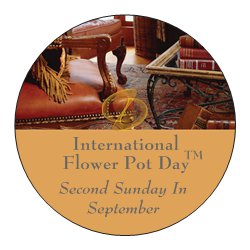 Now It´s Time to Upgrade to The Art Pot 

- IAPD -  Art Pot Day International™
As an artist, I think that the flowerpot is both underestimated, forgotten and untapped. 
It seems to be regarded as an object, or the more irreverent expression: "detail" in most examples.  It is mainly used only as an uninteresting, sometimes dull, container of potting soil and plants.  The paradox for the solution to make the pot more appreciable is often the pot placement, usually in connection to the incoming light that we humans always need.  
We often look "out" through the windows while the bulk of the light is coming "in".  We see the flower pot every day, but we don´t "see" it.  Flower pots come in various forms from all cultures of our civilization.  They are magnificent to say the least.

If we can alter our attitude to see the art pot as an integral part of our interior decor, design and artistic expression or even designed some of the vessels ourselves, we may just get to see some other perspective of everyday life in our home, business, restaurant, cafe, organization or hospital.  
Wherever you find yourself, if you're in need of cheering up there may just be a beautifully designed and hand painted pot to let you know there is still some good in the world.

Let us create more of each flower pot!
Wouldn't it be great if producers of pots develop more options in the design of the almighty pot.  Perhaps some day it may finally rightfully join the loungroom elite as an integral piece of "furniture", as part of a whole in an interior layout.
The effort from artisans who create new designs and artists who tackle the important outer surface of a flower pot can sometimes go unheeded, but with the rising of a new special day they will soon be shown much appreciation.

Here at IAPD (International Art Pot Day™) the administration are committed to the flower pot's evolution on so many levels.
The aim of IAPD™ is that through care and thought we can reach the masses, creating genuine hand-painted original artworks, truly individual pots!
For fairness and equality everywhere we would ergo strike a blow for the flowerpot.  It would now be highly regarded because of it's more aesthetic and attractive design.  IFPD™ hereby challenge all the world's manufacturers, producers, designers, artisans and artists to participate. We hereby establish the globe-spanning: IFPD - International Art Pot Day™.
Commencement of the inaugural IAPD™ : September 9, 2016

Following IAPD's: Occurring annually on the Second (2nd) Sunday of September (every year), beginning 2017.
Kenth Bender
Int. Awarded Artist
Founder of IAPD - International Art Pot Day©
PS. More photo examples are coming...
Please Share It all over the world...
---
Support IAPD™!
You can be a private person, artist, producer, manufacturer, craftsman or designer of flower pots? Perhaps you're an interior designer, interior stylist, run a flower shop, horticulture business or business in any industry. Now you can support IAPD™ officially. 
---
Back from Art Pot Day International to
Art Pot Gallery - Index or
Sitemap
---