Artists for Human Rights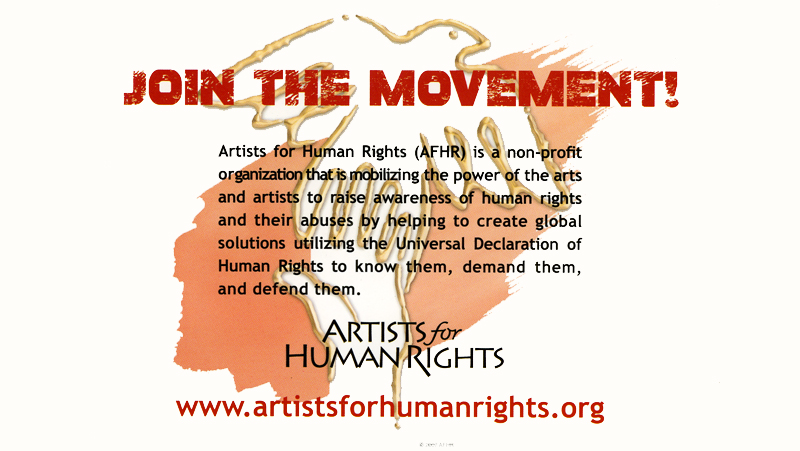 Artists for Human Rights (AFHR)
- was formed as a non-profit organization with the purpose of promoting the Universal Declaration of Human Rights and thus raising human rights awareness around the world by knowing them, demanding them and defending them.
AFHR welcomes all peoples of the world to join us - the only prerequisite - support and affirmation of the Universal Declaration of Human Rights.

We work with like-minded individuals from all walks of life, all disciplines, races, creeds and nationalities and allied organizations to bring the full force of artistic expression to bear in the human rights arena.

As a united front, our intention is to enlighten and elevate the culture by raising our voices together thus bringing about increased sanity and tolerance in our troubled world.
Invictus – Directed by Oscar Winner Clint Eastwood
Opens Our Hearts and Minds to Peaceable Approaches to Human Rights
Challenging and thought-provoking, Invictus tells the inspiring true story of how Nelson Mandela joined forces with the captain of South Africa's rugby team to help unite their country.  

Newly elected President Mandela knows his nation remains racially and economically divided in the wake of apartheid.  Believing he can bring his people together through the universal language of sport, Mandela rallies South Africa's rugby team as they make their historic run to the 1995 Rugby World Cup Championship match.
AFHR, partnering along with 26 other NGOs, worked with TheCommunity.com and the City of West Hollywood in helping to bring further awareness of the Universal Declaratoin of Human Rights with the launch of a campaign promoting the Universal Declaration of Human Rights at an exclusive screening of Invictus in December 2009.
Read more... and Join
---
Forward from Artists for Human Rights to
Index or Site Map 

---