Fine Art in Armenia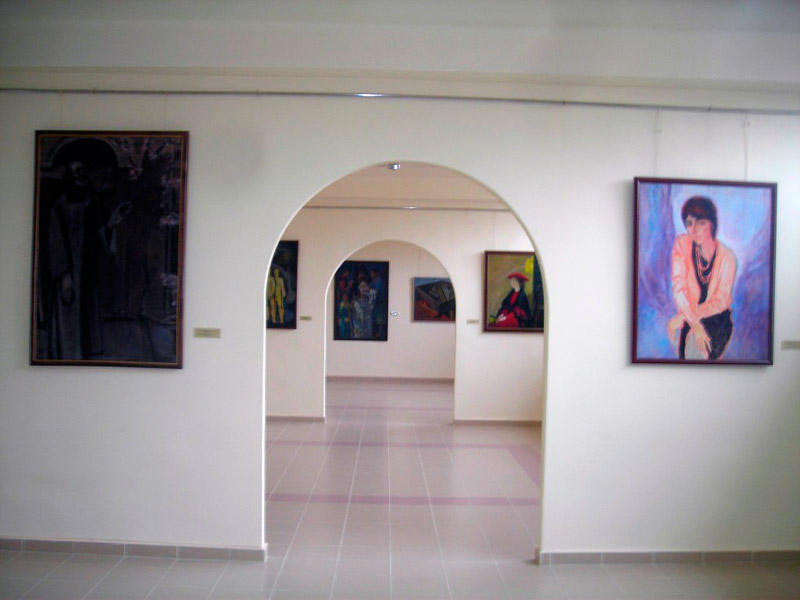 Fine Art in Armenia
Fine art in Armenia is increasingly gaining popularity as more and more artists venture into this form of art because of its diversity. Most of the time you will find that these works of art portray the things that happen every day in the lives of people or even things that surround them. When this is done then people can be able to interpret what the artist is trying to come up with in their fine art work. 

July 13, 2018 marked the opening of the exhibition at the Cafesjian Center for the Arts dedicated to the contemporary abstract art in Armenia. The exhibition titled "11: Selections of Armenian Contemporary Abstract Art" features eleven aesthetically and technically diverse Armenian contemporary abstract artists: Albert Hakobyan, Ashot Harutyunyan, Gagik Ghazanchyan, George Kassabian, Edik Boghosian, Leo Leo Vardanyan, Khachatur Martirosyan, Hamlet Hovsepian, Moko Khachatryan, Yura Harutyunyan, Vahan Rumelyan represented in CCA's Eagle and Sasuntsi Davit Garden Galleries. The goal of the exhibition is to present the field of contemporary abstract art in Armenia going beyond the borders of this exhibition.

Video: Exhibition "11: Selections of Armenian Contemporary Abstract Art"
Different artists are talented in different genres therefore what one artist can do does not necessarily mean that the other too can do the same.  Armenian art begun long time ago before World War 1. However, when it happened things changed a little bit and what remained where just ruins and monuments. This is changing with time as we see more and more artists coming up to reform the system of fine art in Armenia.  Types of Fine Art in Armenia for those who love fine art, you can be guaranteed a variety of options while in Armenia. The artists make sure that they come up with works that are educative while at the same time captivating.  Some of the types of art that you will find there are: 

Paintings
There are different types of paints available in place. Such paintings are like the oil paints which oil-based paints are mostly used on paper by the artist to bring to form what they want. Other forms of painting are the nudes and pastels. Still life works of art are also gaining popularity not forgetting the common portraits that are embraced by many artists because of their simplicity.  

Armenia has a material history and visual culture that reaches back to the Paleo-lithic era. Prof. Christina Maranci's newly published The Art of Armenia: An Introduction, provides a survey of the arts of Armenia from antiquity to the early modern times. It covers a wide range of media, including architecture, stone sculpture, works in metal, wood, and cloth, manuscript illumination, and ceramic arts, and places Armenian art within broad historical, archeological, and cultural contexts. The Art of Armenia offers students, scholars, and heritage readers of the Armenian community something long desired but never before available: a complete and authoritative introduction to 3000 years of Armenian art, archeology, architecture, and design.

Video: NAASR Armenian Studies | Christina Maranci | The Art of Armenia
Sculptures
Sculptures date back from back in the time but most of the original works were destroyed leaving just a few. Other artists are coming up to embrace this type of art and coming up with different forms. Types of sculptures include relief sculpture, stone carvings, wood and ivory carvings. Most of these materials used for carvings are readily available and regarded to as precious making it even easier for the artist. 

Architecture
This is the most ancient of all the types of fine art in Armenia and they serve as tourist attractions. The most captivating thing about architecture is the form in which the buildings have been made. They are not just the type of building that you see every day. Churches are the most popular works of architectural form of art in this case.  

Music and poetry
When it comes to entertainment as a form of art, music and poetry comes in first in this case. The two forms of fine art show cultural diversity amongst the people. The instruments used in musical performances are also creative. You will realize that their poetry has been saved up in special materials which make them to be long lasting. This is what led to prints as people needed to learn more. The result was civilization in this beautiful city.  It is important to note that most of the Armenian forms of fine art date back in the 19th and 20th century and that is why great value is placed on them. The old and new forms of art are maintained properly for future generations.

---
Back from Fine Art in Armenia to
Art and Culture in Armenia - Index or
Site Map
---