---

fine art - abstract art
Wear the feeling of satisfaction, pride and uniqueness
 

Abstract Figurations - Figurative Abstractions
The art releases and realizes humans. It opens up worlds,
contributing to reflection and bridges between us humans.
This is Transnational Quality of Life

"Now it's for real"
 
"To Draw Attention to Our Civilisation's Largest and Most Important Social Phenomenon Through Every Category Of Human Creation Worldwide
- Arts & Culture -
and Its Fundamental Importance To Our Future (Human) Development ".
Kenth Bender

---
Featured
Digital Journal – Pittsburg Post Gazette – Daily Herald -
My Fox Detroit – Emerging – Wall-Street – American Report -
US and Canada Report – Glamand Fashion – Universal News Point - News Channel 9 abc – abc 4 – Minnesota Public Radio

More...

---

Wonderful Traditions in Fine Art Started from the Great Ancient Civilizations.
  Learning the history and symbolism behind this can provide direction for any art pursuits, whether buying works or studying, and many galleries and museums have an education section with information about artwork and artists.

Fine Art - Abstract Art

¤ Fine art is a visual art created primarily for beauty and  intellectual purposes and judged for its meaningfulness.

¤ This form however, doesn't only include visual paintings, but sculptures, drawing and poetry as examples.  It  includes a type of art form from around the 17th century on.

Fine art is about the creation of visual arts which involves painting, sculpting and drawing. Today, thanks to museums and collectors, there are over one thousand drawings by Rembrandt which have been preserved.

For this to be seen as fine art it needs to qualify; so it needs to be graphics, a painting or a drawing, decorative art or photography.  It can be a complete and polished piece of work or it can be a rough sketch or drawing in pencil or charcoal.

¤ It must be an expression in the field of art and conceived according to aesthetic principles.

An Art Form Depicting Society Accurately
Although many of the newer forms of art are a mixture of different genres, this  form at that time until today is essentially for aesthetic purposes.  A purpose of  the work of some of the artists was to also capture society accurately.

¤ The history of this dates centuries back, backed up by findings of rock paintings, ancient sculptures from cavemen days and even further back.

The lifestyles of cavemen; their hunting and interaction with nature was depicted in their art. To this end this type of art is imagining what the subject means to the artist and then having the means and skills to transfer it onto a painting.

---
Challenges shape former BHC fine arts student
The streets were not paved with gold for former Brookhaven College fine arts student Nick Gonzalez. He had to stay dedicated to the dream he was chasing while facing adversity on a daily basis.
After high school, Gonzalez studied art. He took classes at Eastfield College, which he attended for nearly two semesters. Gonzalez said he decided to leave the school in 2008 and went into the roofing business. During this time, Gonzalez enrolled in Westwood College to study computer and architectural design. 
After Gonzalez graduated from Westwood in 2008, the economy took a major hit when the housing market bubble burst. Due to lack of available work during the economic crisis, Gonzalez said he was forced to take a desk job. Unsatisfied with his situation, Gonzalez enrolled at Brookhaven in 2009.

Read more... Reference: The Brookhaven Courier

---
DJ Kool Herc Kicks Off Fine Arts Exhibit in The Bronx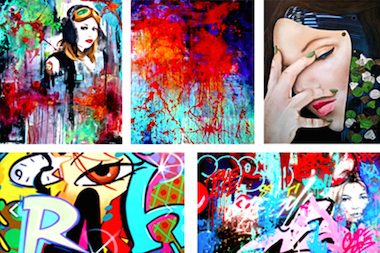 CONCOURSE — The man who pioneered hip-hop is helping local artists build The Bronx's reputation for another art form.
DJ Kool Herc will rock the mic Oct. 24 at "Quintessential," a new exhibit by TAG Public Arts Project featuring fine art pieces from across the borough.
The group, which has already been working on creating murals, will display more than 30 pieces from artists such as J. "SinXero" Beltran, James "Sexer" Rodriguez, Luis "Zimad" Lamboy, John "Crash" Matos and COPE2.

Read more... Reference: DNAInfo New York

---
Art and science: The creative partnership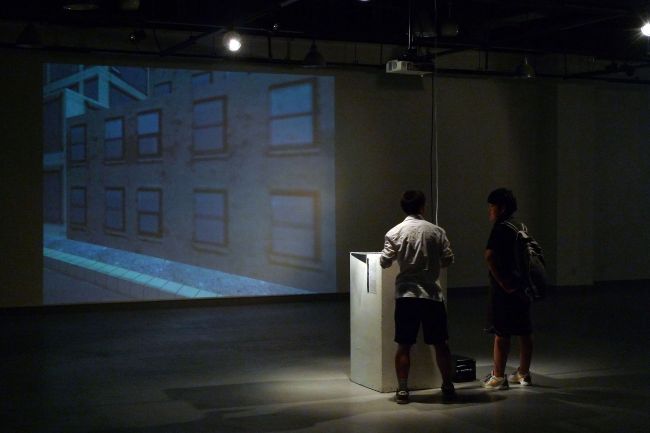 Just by placing a fingertip on a pad, you can create your own virtual city out of the labyrinth of a fingerprint and drive through your "fingerprint city" with a joystick. The interactive work on display at the Museum of Art in Seoul National University, employs the "City Engine" technology by Esri R&D Center-Zurich, a 3-D content developer from Switzerland.

Visitors to the museum can also get a glimpse of the ambitious Human Brain Project by the Swiss Federal Institute of Technology in Lausanne, Switzerland, that looks into the structure and functions of a human brain by using information and communication technologies. A team of Korean and Swiss artists visualize human brain cells based on algorithms developed by the project.

Read more... Reference: The Korea Herald

---
When Museum Visitors Become Part of the Art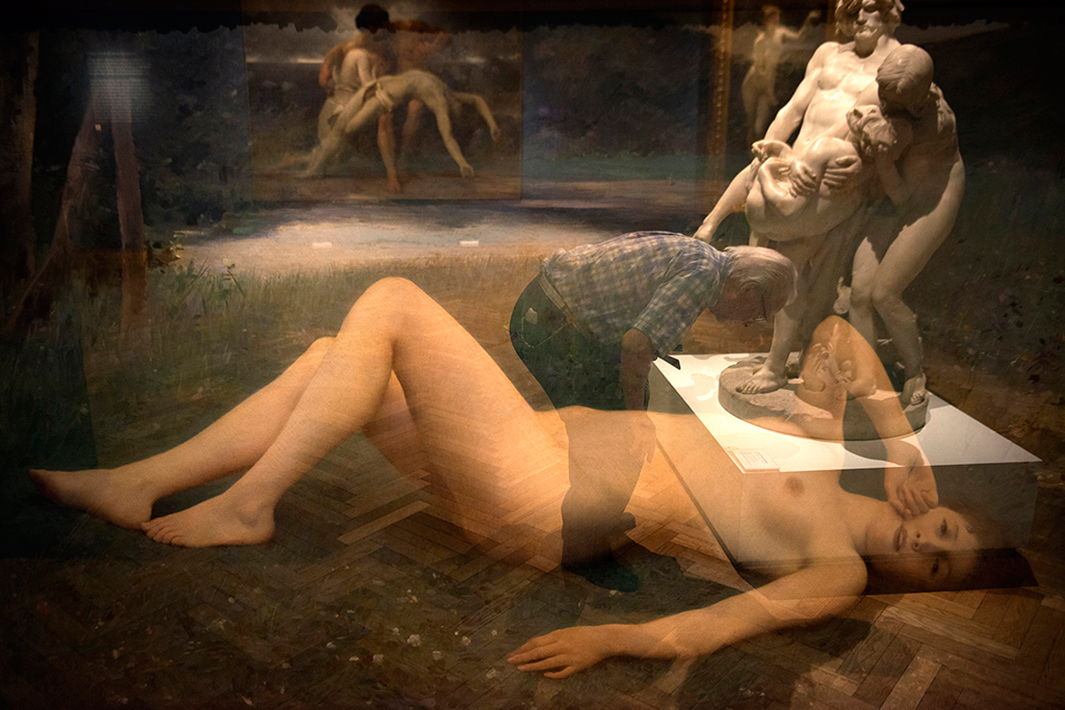 While visiting the Rijksmuseum in Amsterdam, Andrés Wertheim noticed a disparity between the crowds gathered to look at Rembrandt's The Night Watch, and the lack of people noticing just about anything else.
"It felt to me as if the characters in those artworks looked as if they were feeling, down, ignored," he wrote via email.
Wertheim began creating double exposure images combining the crowds and artwork to capture this disparity, creating images that are sometimes humorous and sometimes ironic and always a bit surreal for his series "The Museum's Ghosts."

Read and see more... Reference: Behold

---
Hospital patients to be prescribed art and culture at "world first" gallery

It is thought to be the first art gallery of its kind in the world.
The Suttie Space will open its doors at Aberdeen Royal Infirmary in just over a month's time.
Positioned above a number of operating theatres and next to some of the hospital's busiest clinics, it is understood to be the first purpose built art gallery in an acute hospital setting.
While designed for patients, their visitors and staff, it is also hoped that the Suttie Space will become a key cultural venue in the city.
The gallery been designed as much to accommodate a patient being pushed in on a trolley as an art lover coming to see an exhibition from the city and beyond.
It will bring the visitor out of the hospital environment and bring a little of the outside world in.

Read more... Reference: The Press and Journal

---
Review: Bold new music from Brock, Markowitz and Johnson
In jazz, student and mentor often perform together to powerful effect, and that's precisely what has happened in the remarkable partnership of violinist Zach Brock and pianist Phil Markowitz.
Chicagoans will remember Brock as an aspiring musician working various jazz rooms back when he studied at Northwestern University, more than a decade ago. He moved to New York in 2005 and has been turning out increasingly strong work as soloist, but nothing as probing or substantive as the music he played Friday night at the Green Mill Jazz Club.
The development owes partly to his tutelage with Markowitz, whom Brock credits with introducing him to advanced harmonic and improvisational concepts. Student and teacher began touring together in 2012, finally documenting their work on their significant new album "Perpetuity."
They celebrated its release in a performance that often suggested the intensity, complexity and control of a classical chamber concert, albeit within the syntax of jazz rhythm. Perhaps that's why a surprisingly rowdy audience consistently applauded at the wrong times – the structural intricacies of this music required closer attention than some were willing to give.

Those who listened closely, however, heard Brock and Markowitz unfurling original compositions that were as carefully constructed as they were handsomely articulated.

Read more... Reference: Chicago Tribune

---
Crafts turn into fine art at new Bellevue Arts Museum shows
The three exhibits showcase entirely different media: glass, ceramics and — not your usual museum fare — carpenter's tools.
Yet the shows have odd parallels in theme and content.
They also do what Bellevue Arts Museum does best: 1. Find a fine-arts resonance in craft-derived processes and 2. Give regional artists their first shot at a solo museum show.
Here's what's on view:
"Quality Is Contagious: John Economaki and Bridge City Tool Works" (through Feb. 1, 2015): Bridge City Tool Works is a Portland-based outfit that was founded by furniture-maker John Economaki after he developed a debilitating allergy to sawdust. A few samples of his early woodwork make clear the design prowess behind BCTW's products.
Handsomely arrayed under vitrines, BCTW's hand drills, chisels, plumb bobs and other devices resemble treasure displays. A group of "Foxtail Planes" positively gleams like lustrous loot.
Economaki developed the planes after glimpsing a fox in the wild.

Read more--- Reference: The Seattle Times

---
2014 Nobel Prize in Literature
The Nobel Prize in Literature 2014 was awareded to
Patrick Modiano
"for the art of memory with which he has evoked the most ungraspable human destinies and uncovered the life-world of the occupation".

Read more... Reference: Nobel Prize org

---
Klemantaski Collection Issues Racing Fine Art Book
Auto racing photography was effectively invented and defined by Louis Klemantaski, who was born in the Manchurian city of Harbin, far from the center of the racing world. Louis's father, Jacques, had hoped to build his fortune in Manchuria by exporting soybeans and importing Willys-Knight and Overland cars. In support of his father's efforts, Louis was driving by the age of eight, and in 1922 received a "Brownie" box camera for his tenth birthday. The die was cast.

Of Polish ethnicity but a citizen of Great Britain, Jacques sent his son back to England for his formal education, at Kings College. But once he discovered auto racing, Louis spent less and less time at school and more time photographing cars. A severe ankle injury on a motorcycle in 1933 and a lack of funds ended his racing ambitions. By the age of 21, he had turned to his early passion, photography.
Klemantaski mastered and built upon the photographic techniques of Jacques-Henri Lartigue, whose experiments in the early 20th Century are the foundation of action photography.
Read more... Reference: Forbes

---
What Happens When Fine Art Becomes Contraband? Ivory Goes Extinct at New York Antiques Fair
(From left) Carved Ivory Figure of Christ Bound to a Column, South German, Circa 1625-50; Carved Ivory and Silver-Gilt Cup by Hans Peter and Gebr. Kauzmann, Made in Geislingen, Germany, Circa 1860-80. $35,000; Carved Ivory and Fruitwood Figure of Jupiter, by Simon Troger (1683-1768), Circa 1740. Recently published. $115,000.
Walking through the International Fine Art & Antique Dealers Show at the Park Avenue Armory in Manhattan, it's hard to drum up a sense of urgency amidst rows of Louis XIV chairs and endless expanses of silver tureens.

But, to hear dealers talk, one segment of the show is in critical condition: antique ivory.
"The narrative was that they couldn't tell the difference between old and new ivory, the elephants are dying, so New York State had to ban it all," said Scott Defrin of European Decorative Arts from his booth during a press preview of the fair.
The law, which was signed by New York's governor Andrew Cuomo in August, bans the sale of any antique object where ivory makes up 20 percent or more of its total material. And though the legislation was passed two months ago, several dealers have been grandfathered in until they renew their licenses next year. That means -- for the last time ever -- the Armory's antiques show will offer significant ivory pieces.
Read more... Reference: Bloomberg

---
Most art forms in Iran are illegal. Artists shirk the law by going underground

This is a sad song in today's art culture and science
Tehran is the seat where most of Iran's artistic community resides and hopes to one day thrive, despite the tremendous censorship restrictions regarding who can perform and under which circumstances.

Navigating these restrictions has become an art form itself, while social media sites (at least those that are allowed) are continuously monitored. Iran has very strict censorship rules regarding women's appearance, and which topics are permitted to be discussed openly.

Anything cultural or artistic that has the intention of being presented to the masses must first receive authorization and approval from the Ministry of Culture and Islamic Guidance before it can proceed into production. Plays, novels, videos, films and songs all are subject to scrutiny, and which ones are ultimately approved or dismissed is often decided by an arbitrary stroke of an official's pen.
---
Read more...Reference Washington Post

---
Have A Fine Art Day

Kenth Bender
Artist & Published Author
Gothenburg Sweden

Int. 0046707 743667
Nat. 0707 743667
Email:bender.fineart@gmail.com
Skype: kenth.bender
---

---
A Blend of Abstract art, Fine Art and Culture Informs and Inspires - Write a Post About Abstract art, Fine Art and Culture in Your Country - Inform and Inspire!
Yes please, I would appreciate I you write about abstract art, fine art, art & culture in your country, state, city, region,block,neighbourhood etc. Write about it in general or a specific story about art and culture. Share it with the visitors and the world.

Your story will appear on a Web page exactly the way you enter it here.

TIP: Since most people scan Web pages, include your best thoughts in your first paragraph.
What Other Visitors and Participants Have Said
Click below to see contributions from other visitors and participants to this page...

---
Readers who viewed this page, also viewed:

Site Map

to find more...

---
Table of contents