---

- abstract art - fine art painting - 

arts & culture
When you are looking behind the "surface" - beyond "the image", 
you will find the fine art painting fertilized and emerges.
More than art

---
Abstract art - Connecting To The Soul

Abstract Art - Connecting to the Soul

One who is not attuned with fine art may think that abstract art is only a jumble of colors, lines, and shapes. However, this is far from the truth. By definition, an abstract composition is unique in the absolute abandonment of representational intentions. On the other hand, representational or figurative art can be described as requiring mild interpretation or unambiguous. The meaning of this art form is best described by the artist himself. Viewers of abstract works may interpret the work in their own way, even if their interpretation is different from the artist's.

This form of art is almost always an expression of an artist's soul. This artistic style can be considered contemporary or modern because of its origins in the 19th century. It is an answer to the neoclassicist style, which was renewed during the 18th century. Non-representational art is synonymous to the Avant-Garde. Its many derivatives include Impressionism, Romanticism, Expressionism, and Post-Impressionism during the 19th century and Cubism, Fauvism, and Surrealism during the 20th century.

Emotions aside, several abstract paintings by a particular artist may hold common characteristics. Pablo Picasso's Cubist paintings have similar characteristics, yet his Cubist paintings are different from those of other artists. Gustav Klimt's abstraction styles are characterized by bold colors and distorted representations of the female form. Other artists also have their own abstraction styles, which are unique only to them. Perhaps the similarity among most abstract works is that these works stem from the artist's emotions, which are laid out for the world to see.

Many abstract works are geometric experiments done by the artists, who use the principles of art like shape, line, color, and space to express meaning and mood. Figurative and non-representational art both speak to the viewer. Non-representational art is also a conversation between the artist and the viewer. The artist, through the abstract composition, may speak volumes to a viewer with his interpretation of the artwork. On the other hand, a viewer may have his or her own interpretation of the artwork. It is an exchange of ideas between both parties.

Abstract artists simply create their works to express their emotions and perceptions, and they present their perceptions to viewer. Abstraction is also another way for an artist to connect with his soul to derive inspiration. Artists may also conceptualize to deliberately attempt to sway the viewer's emotions or thoughts. An abstract work with splashes of red may incite anger or agitation from the viewer. An abstract work with a soft geometrical composition or shades of blue may remind viewers of tranquility or peace.

Art appreciation is an education for one's soul. People feed their souls whenever they permit any kind of art to enter their range of perception. This is because people are open to new ideas, deepening or changing of emotions and a connection to humanity's most exalted facets. Abstract art is not merely composition or the integration of colors and lines. Like any language, it is a form of communication that involves color and composition. It speaks to our soul, as a doorway, just like poetry, far and near music.
---
Fine Art Painting- Abstract Art Painting- Arts & Culture
¤ Fine art is a visual art created primarily for beauty and  intellectual purposes and judged for its meaningfulness.

¤ This form however, doesn't only include visual paintings, but sculptures, drawing and poetry as examples.  It  includes a type of art form from around the 17th century on.

Fine art how to understand it, is about the creation of visual arts which involves painting, sculpting and drawing. Today, thanks to museums and collectors, there are over one thousand drawings by Rembrandt which have been preserved.

For this to be seen as fine art it needs to qualify; so it needs to be graphics, a painting or a drawing, decorative art or photography.  It can be a complete and polished piece of work or it can be a rough sketch or drawing in pencil or charcoal.
& CultureIt must be an expression in the field of art and conceived according to aesthetic principles.

An Art Form Depicting Society Accurately
Although many of the newer forms of art are a mixture of different genres, this  form at that time until today is essentially for aesthetic purposes.  A purpose of  the work of some of the artists was to also capture society accurately.

¤ The history of this dates centuries back, backed up by findings of rock paintings, ancient sculptures from cavemen days and even further back.

The lifestyles of cavemen; their hunting and interaction with nature was depicted in their art. To this end this type of art is imagining what the subject means to the artist and then having the means and skills to transfer it onto a painting.


---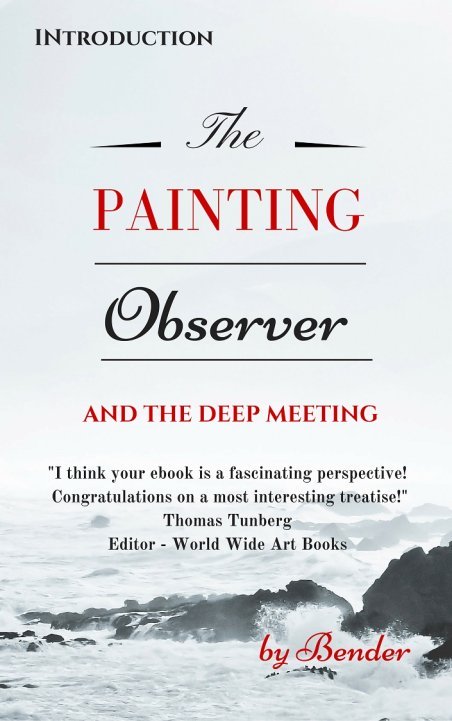 New ebook
The Painting - Observer - and the deep meeting -
Coming Soon
---
Dear Kenth!
Thank you for the wonderful book that contained your art, as well as the art of many others. Very interesting I love your work.
And thanks for the two ties as well, very colourful.

Wish you all the best with your work.
Jack Canfield
Co-author of the Chicken Soup for the Soul Series Mr. Canfield has sold over 500 million books and had 47 titles on the best-selling list
---
"It is not that often that an artistic talent like Kenth Bender is shows up and gets recognized inside and outside Scandinavia.
Kenth a gifted and talented artist known to all of us who have been exposed to the art of Kenth.   Having turned his talent into writing, decorating and allowing to have published a book teaching young people Art and Culture in a language that is understood and is comprehended in an instrumental way and is illustrated is hard and ambitious and not easy.  Kenth has passed this test with flying colour and we salute him for his efforts and his results.
Kids understand when told in a language they relate to.   We can all enjoy the result and share the moment and hope this is the first of several books and in the highest traditions of Swedish children book culture for which Sweden is well known worldwide.
Art Nordic
Denmark
Boi Wynsch
Sr. partner"
---
Bender´s Friends

When you want a memorable celebration that your friends will talk about for years, then sign up to the right for a hand-clapping, foot-stomping, rip-roaring, good time.

Yes it has been a fantastic journey during this 2-3 short years. Want to join the onward journey, it will most likely be even better. Perhaps you are eager to be part of this adventure.
Join Bender´s Friends Now!





---
International Award Winning Artist & Published Author
Sweden
Author of the Illustrated Children´s Book
Title: Art Rocks - Simon and Sophie Meet The Sculpture That Comes Alive
Theme: The Capable Child For Life


---
---
A Blend of Abstract art, Fine Art and Culture Informs and Inspires - Write a Post About Abstract art, Fine Art and Culture in Your Country - Inform and Inspire!
Yes please, I would appreciate If you write about and share your thoughts about abstract art, fine art, art & culture, art and science in your country, state, city, region,block,neighbourhood etc. Write about it in general or a specific story about It! Share it with the visitors and the world.

Your story will appear on a Web page exactly the way you enter it here.

TIP: Since most people scan Web pages, include your best thoughts in your first paragraph.
What Other Visitors and Participants Have Said
Click below to see contributions from other visitors and participants to this page...

---
Table of contents