---

- abstract art - fine art painting - 

arts & culture
When you are looking behind the "surface" - beyond "the image", 
you will find the fine art painting fertilized and emerges.
More than art

---
You Probably Need To Work Harder Than You´ve Ever Worked Before
To Get Access To Bender's artwork

---
Abstract Fine Art - A Refined Choice
Many people feel uneasy when confronted.  
"My five year old could do better than that," or,
"What's it supposed to be?"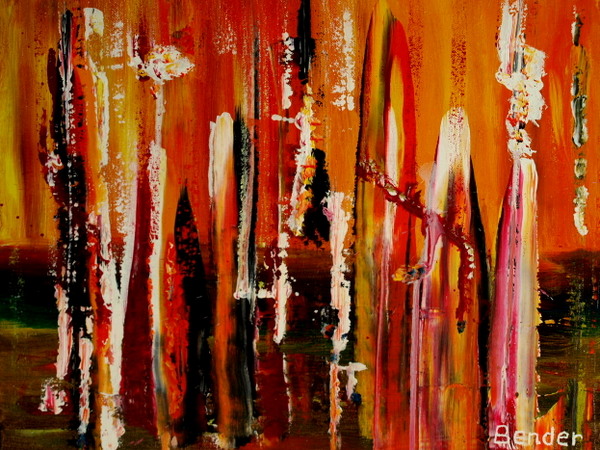 Abstract Fine Art - A Refined Choice
Many people feel uneasy when confronted with abstract fine art.  "My five year old could do better than that," or, "What's it supposed to be?" are still common responses to contemporary art.  It is a reflection on the pitiful state of art education in our schools that people are still so locked out from the appreciation of some of the most beautiful and meaningful art of our times.

This art form is available for all to enjoy in museums and galleries in most major cities around the world, in particular, in private galleries.  A Sunday afternoon spent at say, Tate Modern, of New York's MOMA, just absorbing the sights, the colors, the shapes, without trying to interpret or "understand" them, will start to unlock contemporary art for you.
Much contemporary art is abstract, but some is figurative.  For example, a favorite artist of mine, Rosie Snell, who is Professor of Painting at Bristol University, takes modern industrial landscapes and war machines, and depicts them in stark, almost abstract detail.  Her output is small, and her work may take some tracking down, but her use of shape and color to almost denature her subject matter is very abstract in feeling, and well worth seeking out.

Much has been written about this kind of art, and to be honest, a lot of what is written is fairly incomprehensible.  So how can you approach an abstract painting if you are more used to looking at portraits, landscapes and the like?  It may help to think of natural things like a sunset.  A sunset is simply a collection of colors and textures, and yet it is one of the most beautiful and frequently admired sights in nature.  Or a stormy sea - again, a collection of colors and shapes which please us and stir our emotions - in fact, just like an abstract picture.
Yes, an abstract picture works in the same way.  Look at a piece of contemporary abstract art as you would look at a sky, or the sea.  Allow yourself to fall into the picture.  Don't look at it with your intellect, look at it with your eyes and your heart.  Feel how you respond to the beauty of line and color.  Of course, not every piece of abstract fine art will appeal to every person - we all have different tastes.  But, seek, and you will found pieces which speak to you, and which you will enjoy, and which will lead to other pieces in their turn. 

Abstract art is for everybody to enjoy, and it's well worth making the effort to take it to your heart.
---
Fine Art Painting- Abstract Art Painting- Arts & Culture
¤ Fine art is a visual art created primarily for beauty and  intellectual purposes and judged for its meaningfulness.

¤ This form however, doesn't only include visual paintings, but sculptures, drawing and poetry as examples.  It  includes a type of art form from around the 17th century on.

Fine art how to understand it, is about the creation of visual arts which involves painting, sculpting and drawing. Today, thanks to museums and collectors, there are over one thousand drawings by Rembrandt which have been preserved.

For this to be seen as fine art it needs to qualify; so it needs to be graphics, a painting or a drawing, decorative art or photography.  It can be a complete and polished piece of work or it can be a rough sketch or drawing in pencil or charcoal.
& CultureIt must be an expression in the field of art and conceived according to aesthetic principles.

An Art Form Depicting Society Accurately
Although many of the newer forms of art are a mixture of different genres, this  form at that time until today is essentially for aesthetic purposes.  A purpose of  the work of some of the artists was to also capture society accurately.

¤ The history of this dates centuries back, backed up by findings of rock paintings, ancient sculptures from cavemen days and even further back.

The lifestyles of cavemen; their hunting and interaction with nature was depicted in their art. To this end this type of art is imagining what the subject means to the artist and then having the means and skills to transfer it onto a painting.


---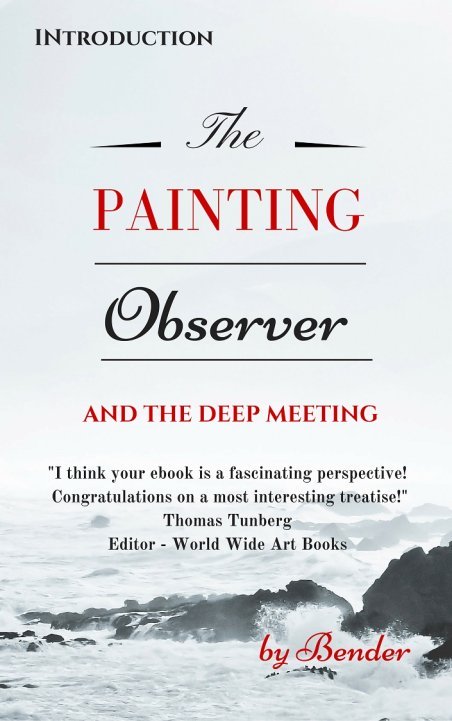 New ebook
The Painting - Observer - and the deep meeting -
Coming Soon
---
Dear Kenth!
Thank you for the wonderful book that contained your art, as well as the art of many others. Very interesting I love your work.
And thanks for the two ties as well, very colourful.

Wish you all the best with your work.
Jack Canfield
Co-author of the Chicken Soup for the Soul Series Mr. Canfield has sold over 500 million books and had 47 titles on the best-selling list
---
"It is not that often that an artistic talent like Kenth Bender is shows up and gets recognized inside and outside Scandinavia.
Kenth a gifted and talented artist known to all of us who have been exposed to the art of Kenth.   Having turned his talent into writing, decorating and allowing to have published a book teaching young people Art and Culture in a language that is understood and is comprehended in an instrumental way and is illustrated is hard and ambitious and not easy.  Kenth has passed this test with flying colour and we salute him for his efforts and his results.
Kids understand when told in a language they relate to.   We can all enjoy the result and share the moment and hope this is the first of several books and in the highest traditions of Swedish children book culture for which Sweden is well known worldwide.
Art Nordic
Denmark
Boi Wynsch
Sr. partner"
---
Bender´s Friends

When you want a memorable celebration that your friends will talk about for years, then sign up to the right for a hand-clapping, foot-stomping, rip-roaring, good time.

Yes it has been a fantastic journey during this 2-3 short years. Want to join the onward journey, it will most likely be even better. Perhaps you are eager to be part of this adventure.
Join Bender´s Friends Now!





---
International Award Winning Artist & Published Author
Sweden
Author of the Illustrated Children´s Book
Title: Art Rocks - Simon and Sophie Meet The Sculpture That Comes Alive
Theme: The Capable Child For Life


---
---
A Blend of Abstract art, Fine Art and Culture Informs and Inspires - Write a Post About Abstract art, Fine Art and Culture in Your Country - Inform and Inspire!
Yes please, I would appreciate If you write about and share your thoughts about abstract art, fine art, art & culture, art and science in your country, state, city, region,block,neighbourhood etc. Write about it in general or a specific story about It! Share it with the visitors and the world.

Your story will appear on a Web page exactly the way you enter it here.

TIP: Since most people scan Web pages, include your best thoughts in your first paragraph.
What Other Visitors and Participants Have Said
Click below to see contributions from other visitors and participants to this page...

---
Table of contents