When You Explore Seeing Fine Art …


You´ll Make New Discoveries - 

About Your Life and Yourself
Look behind the "surface" - beyond "the image", 
and you will find the fine art painting fertilized and emerges.
More than art

---
How France Won the Hearts, and the Art, of 2 American Collectors
For nearly a decade, Spencer and Marlene Hays, who live in Nashville, Tenn., and New York, debated what to do with their world-class art collection, centered on works by Bonnard, Vuillard and other French Nabis painters. Would they leave it in the United States? Or sell it and donate the money to charity?

Reference: New York Times

---
O'Donnell Art History Institute Launches New Online Resource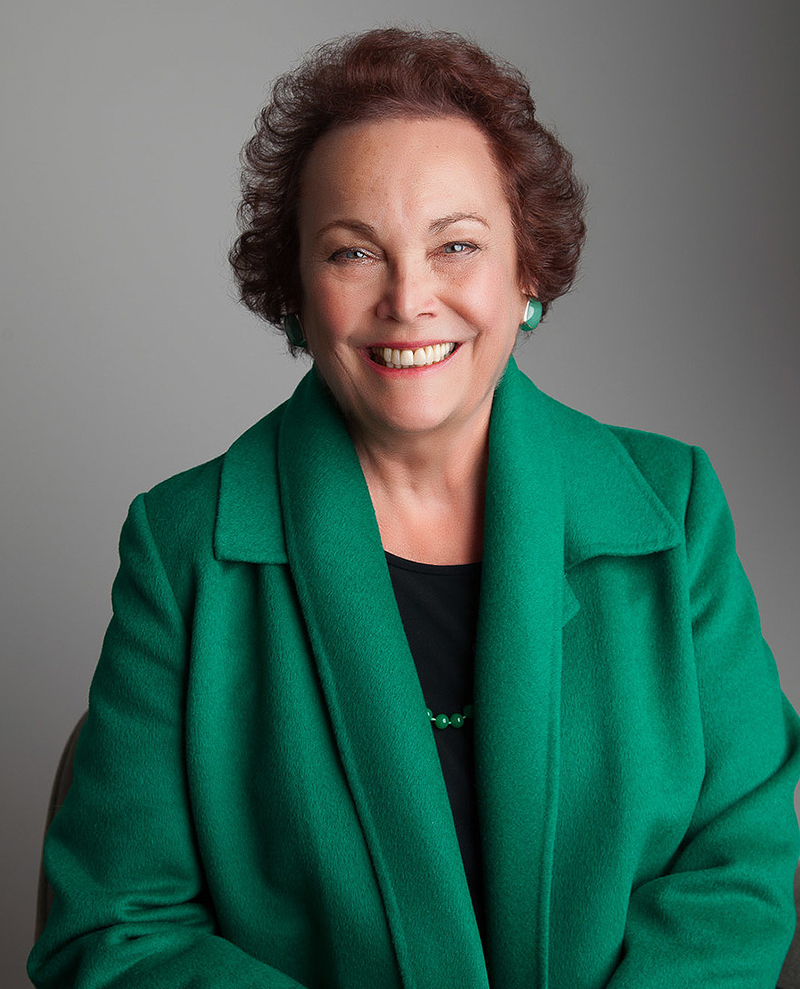 The Edith O'Donnell Institute of Art History at UT Dallas will launch a new website Oct. 31 with access to documents addressing an intriguing question in medicine: How can looking at works of art help medical students be better doctors?

Reference: UT Dallas Edu News Center


---
In the Art World, Globalism's New Spin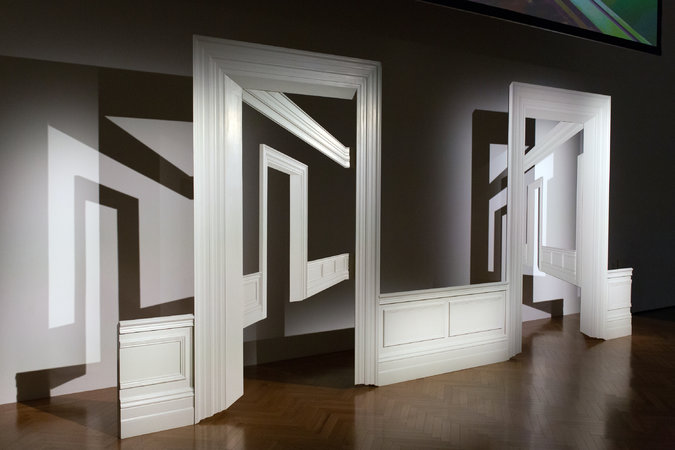 It feels like the right time to reassert global consciousness in the universe of art. Even some of New York's large and conservative museums have been thinking this. 

Reference: New York Times

---
Would you consider a trip to the planet Mars?
Maybe circumnavigate Earth deep in the ocean? Or perhaps even get behind the wheel of a Formula 1 racing car?

Did you know that you too can travel, experience and discover new things through art, fine art etc? Abstract art in particular can give you the opportunity to visit places you might not otherwise thought you have access to. I would like to invite you to an exciting journey of discovery within yourself, when you consider art.

When you experience the artwork, you travel automatically deep into the brain's 20 billion brain cells.  Perhaps this "inner journey" will create new discoveries about yourself and your relationship to the outside world.

Researchers continually conduct groundbreaking discoveries about our brain and our memory. If you did not already know it, but you probably did, so do you by viewing art, is often used as a catalyst to continually make new discoveries about ourselves and our world in which we live in. There is always something new to learn and honor about our higher selves.
Don`t Be Static!
Be a Success! - When You View, Buy and Collect Fine Art!
Did you know: The truly profound meaning of a painting, or a work of art where the artist has completed the work, is not really about the artist or the artwork - it's about life and you - the viewer, and how you can "use" the specific artwork recurring. Use it as a catalyst for learning more about yourself, your life and society.
Take your time!
Explore the work of Timless Contemporary art several times from several angels, perspectives, questions and thoughts.
A good sign, the art work does not die after the first time you view it…
When an artwork is worth seen many times, you are well on the way to new discoveries. 
In the very beginning of our civilization - was art! 
Probably the only phenomenon left, that unites people all over the world. 
Art & Culture - A phenomenon expanding the understanding boundaries of the community.
The Deep Meaning? - That´s why each piece of art is unique in its own way.
Arts ought to have a deeper meaning, and it has, when you explore them, you`ll find them.
Emotion - a strong consideration in finding the meaning.
You don't have to take a lifetime in order to appreciate art/s.
Emotional expression affects the brain's creativity network.
There is always something to learn...
---
So how can we understand what we do not understand:

Abstract Art
Suggestion, explanation, discoveries and understanding 1:
"We can divide Abstract Art or the degree of abstraction in various stages:
1. Realistic paintings
Realistic paintings include the creation of an "image" to represent a subject as close as possible in a way that most of us perceive it, see it, or interpret it. We have full contact with the "source", as Lowry 2010, put it.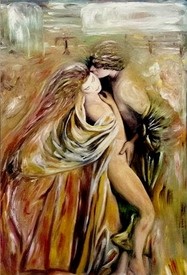 Title: The Beauty of Nature

---
2. Abstract-like
Imagine a puzzle that you received as a child (art puzzles are today also for adults: (go to www.fine-art-bender.com ) and we ourselves had to figure out what it was and how we would get together the puzzle. Here is the puzzle that has a certain level of abstraction, not necessarily the image.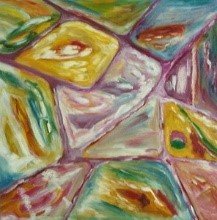 Title: Building blocks
3. Realistic but created with abstract components
In this category you can see what "it is" but different parts, elements or forms are abstracted.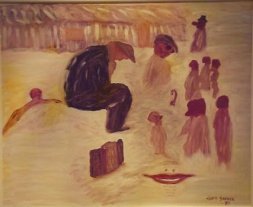 Title: The Artist

4. Abstract, but still Figurative
Artwork in this category still has a certain similarity with the "source subject" so it can be regarded as figurative or to some extent as figurative. But it is far from realistic. The artist has transformed something perhaps simplified or by exaggerating certain parties.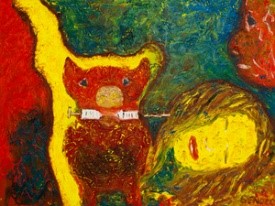 Title: Pandemic
5. Abstract, no longer Figurative
At this stage, we have lost all contact with the "source". It is usually a composition of shapes, lines and colors. There we could call active parts. The artist has omitted parts of, say, white background, arise the forms anyway, but we can call them passive. Lowry says that since the early twentieth century, it is accepted that a good abstract composition need not bear any relation to the figurative. This we know well in contemporary art.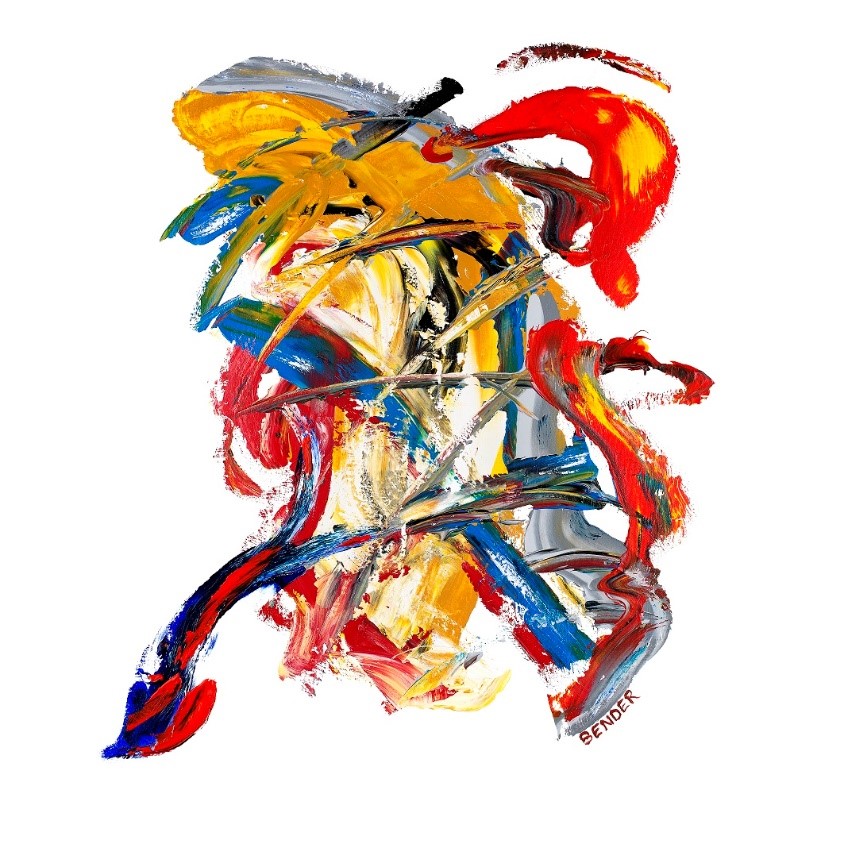 Title: Mr & Mrs Bates Joy
6. Abstract - Seeing into
The next category is called: "seeing-in"
An abstract painting can reach such a level of complexity that engage our brain in such a way that it seeks to "see" into the work and go exploring to find one or more forms that "look like" something. The brain is now starting to work with to bring order among the abstract forms in order to gain understanding.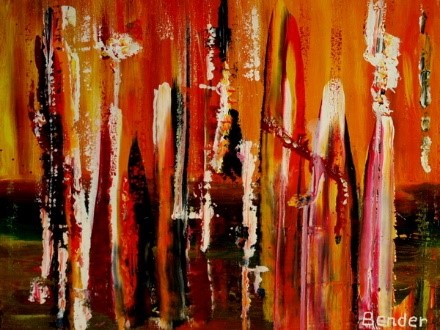 Title: Earth Wind & Fire - Cityscape
Developments
The art has not developed into/from any "bubble" but has been influenced by the times of sociology, philosophy, religion, politics, science and technology. Not so strange because art is about life."
Reference: Lowry, 2010
---
Fine Art Painting- Abstract Art Painting- Arts & Culture
¤ Fine art is a visual art created primarily for beauty and  intellectual purposes and judged for its meaningfulness.

¤ This form however, doesn't only include visual paintings, but sculptures, drawing and poetry as examples.  It  includes a type of art form from around the 17th century on.

Fine art how to understand it, is about the creation of visual arts which involves painting, sculpting and drawing. Today, thanks to museums and collectors, there are over one thousand drawings by Rembrandt which have been preserved.

For this to be seen as fine art it needs to qualify; so it needs to be graphics, a painting or a drawing, decorative art or photography.  It can be a complete and polished piece of work or it can be a rough sketch or drawing in pencil or charcoal.
& CultureIt must be an expression in the field of art and conceived according to aesthetic principles.

An Art Form Depicting Society Accurately
Although many of the newer forms of art are a mixture of different genres, this  form at that time until today is essentially for aesthetic purposes.  A purpose of  the work of some of the artists was to also capture society accurately.

¤ The history of this dates centuries back, backed up by findings of rock paintings, ancient sculptures from cavemen days and even further back.

The lifestyles of cavemen; their hunting and interaction with nature was depicted in their art. To this end this type of art is imagining what the subject means to the artist and then having the means and skills to transfer it onto a painting.


---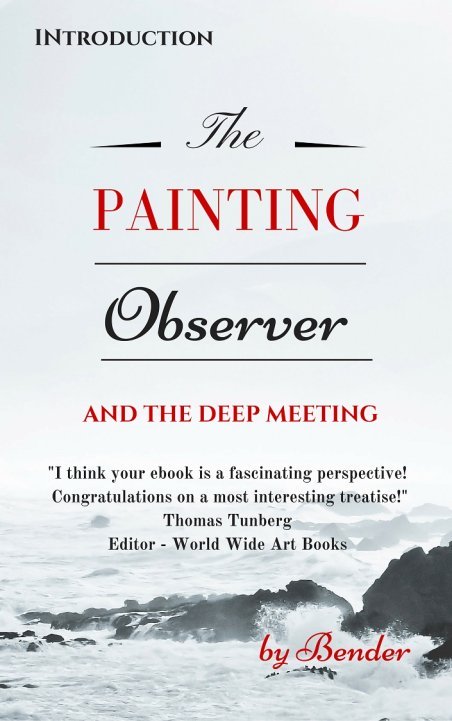 New ebook
The Painting - Observer - and the deep meeting -
Coming Soon
---
Dear Kenth!
Thank you for the wonderful book that contained your art, as well as the art of many others. Very interesting I love your work.
And thanks for the two ties as well, very colourful.

Wish you all the best with your work.
Jack Canfield
Co-author of the Chicken Soup for the Soul Series Mr. Canfield has sold over 500 million books and had 47 titles on the best-selling list
---
"It is not that often that an artistic talent like Kenth Bender is shows up and gets recognized inside and outside Scandinavia.
Kenth a gifted and talented artist known to all of us who have been exposed to the art of Kenth.   Having turned his talent into writing, decorating and allowing to have published a book teaching young people Art and Culture in a language that is understood and is comprehended in an instrumental way and is illustrated is hard and ambitious and not easy.  Kenth has passed this test with flying colour and we salute him for his efforts and his results.
Kids understand when told in a language they relate to.   We can all enjoy the result and share the moment and hope this is the first of several books and in the highest traditions of Swedish children book culture for which Sweden is well known worldwide.
Art Nordic
Denmark
Boi Wynsch
Sr. partner"
---
Welcome to Art Viewer´s Nation©
Art Viewer´s Nation© ???
How would you answer that question?
Join a memorable celebration that your Art Viewer´s Friends will talk about for years, then sign up to the right for a hand-clapping, foot-stomping, rip-roaring, good time future...

I began painting 1987, and celebrate 30 years 2017. Yes it has been a fantastic journey during this latest 3-4 short years. Now it´s time for next step. Want to join the onward journey, it will most likely be even better.
Perhaps you are eager to be part of this upcoming adventure; 
Join Art Viewer´s Nation© Now!

---
International Award Winning Artist & Published Author
Sweden
Contact

---
---
A Blend of Abstract art, Fine Art and Culture Informs and Inspires - Write a Post About Abstract art, Fine Art and Culture in Your Country - Inform and Inspire!
Yes please, I would appreciate If you write about and share your thoughts about abstract art, fine art, art & culture, art and science in your country, state, city, region,block,neighbourhood etc. Write about it in general or a specific story about It! Share it with the visitors and the world.

Your story will appear on a Web page exactly the way you enter it here.

TIP: Since most people scan Web pages, include your best thoughts in your first paragraph.
What Other Visitors and Participants Have Said
Click below to see contributions from other visitors and participants to this page...

---
Table of contents