fine art




- bender -


The Dignity of Fine Art,
- a sheer pleasure when you reflect on life™

A prescription that no pharmacy can dispatch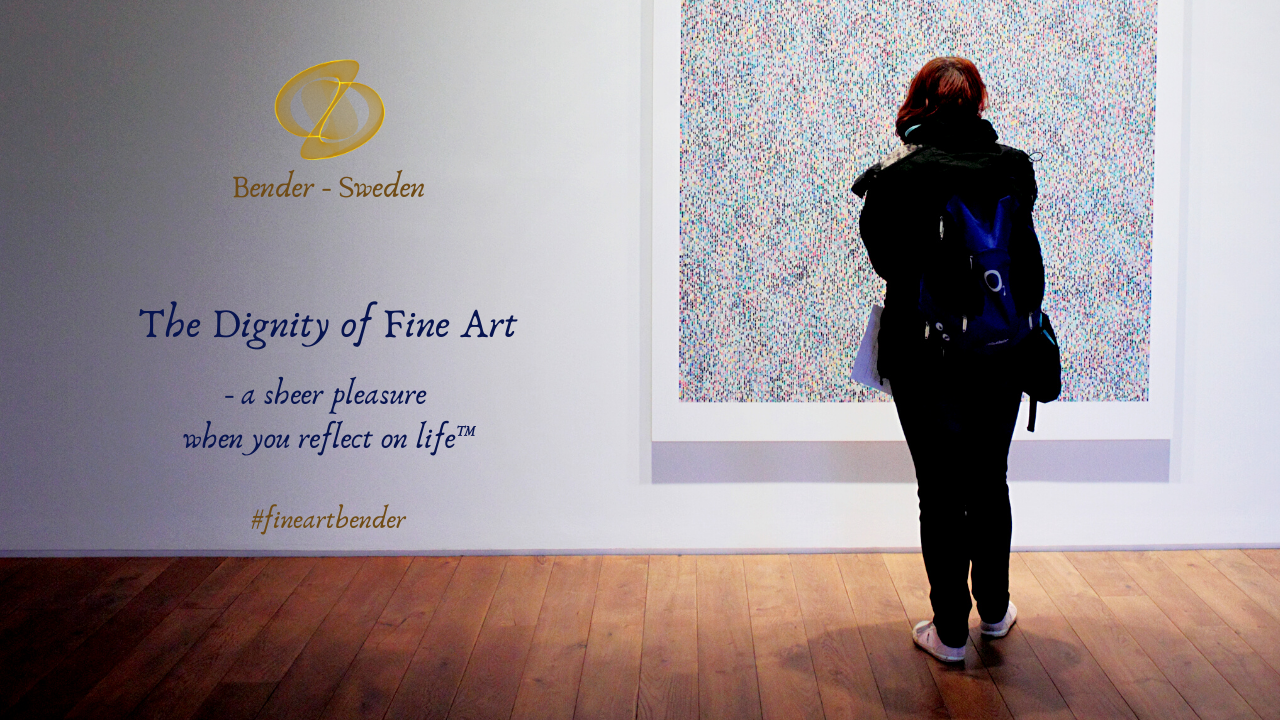 The identity, the duration, the powerful feeling of the unique, the experience of the timeless, ageless and the real, the authentic; in short - that is what blossoms in its never-ending continuation ...

---
Video: 
Phillips: Blazing Ahead
Phillips' New York Sales of 20th Century & Contemporary Art Achieve $175 Million Leading the Evening Sale was Gerhard Richter's monumental 'Abstraktes Bild (636),' commanding nearly $35 million and firmly placing it among the top five works ever offered by the artist. We are pleased to set a new world record for Jadé Fadojutimi with her 'Quirk my mannerism' realizing over $1.9 million, tripling the low estimate.
---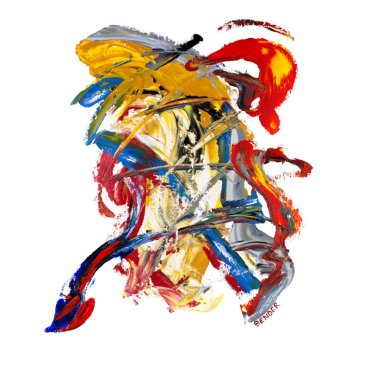 Fine Art  
¤ is a visual art created primarily for beauty and  intellectual purposes and judged for its meaningfulness, 
or to quote Jackson Pollock: "It doesn't matter how the paint is put on, as long as something is said."
¤ This form however, doesn't only include visual paintings, but sculptures, drawing and poetry as examples.  It  includes a type of art form from around the 17th century on. And how to understand it...

Fine art video: How Norman Rockwell Captures the Innocence of Young Love
Over the course of his prolific career, Norman Rockwell developed a remarkable relationship with The Saturday Evening Post, executing 321 cover illustrations for the publication over a forty-seven year period. In this episode of Anatomy of An Artwork, discover the charm of Rockwell's Little Boy Writing Letter, originally painted for the cover of the January 17, 1920 issue.

Painted during the early period of the artist's career, Little Boy Writing Letter demonstrates the more expressive and painterly manner of execution that characterizes his works from the 1920s and early 1930s. This distinctive ability to achieve near perfect realism propelled Rockwell's art to the forefront of the collective American consciousness, and ultimately became integral to the country's vision of itself, its history and its values. Explore this lot and more in Sotheby's American Art Sale. (21 May | New York)

Video: What About Fine Art?
...And how to understand it, is about the creation of visual arts which involves painting, sculpting and drawing. Today, thanks to museums and collectors, there are over one thousand drawings by Rembrandt which have been preserved. So remember to visit museums and exhibitions. For this to be seen as  fine art it needs to qualify; so it needs to be graphics, a painting, for example oil on canvas, or acrylic painting on canvas. 

Exhibitions - The Top 10 Art Exhibitions to See in 2020
"The remarkable thing about major museum shows is that they can transcend the objects themselves to become global cultural phenomena. You might not be in Paris for the Louvre's record-breaking Leonardo da Vinci show (on now through Feb. 24), but you'll certainly have heard of the waiting list, not to mention the multiple controversies.
So while you may not be in New York in March, Paris in May, or Madrid in October, we've compiled a list of what should be the biggest and/or most influential shows of the year." (Bloomberg, 2020).
Painting and Sculpting | MoMa
"The world's largest and most inclusive collection of modern painting and sculpture comprises some 3,600 works dating from the late nineteenth century to the present. It provides a comprehensive selection of the major artists and movements since the 1890s, from Paul Cézanne's The Bather and Vincent van Gogh's The Starry Night to masterworks of today." Painting and Sculpture | MoMA, 2019)
Fine Art Video: Marcel Duchamp | HOW TO SEE "Readymades" with MoMA curator Ann Temkin
Painting is however more popular as opposed to drawing, with the former having developed in leaps and bounds over the centuries. The most important point is that it is a form of visual art that is the most obvious. Therefore, we cannot escape the burning issue: Why is finearts so important? Seneca Academy let us know several reasons; "Here is what we've learned through experience about why arts integration is so important: Working in the arts helps learners to develop creative problem-solving skills. ... Art instruction helps children with the development of motor skills, language skills, social skills, decision-making, risk-taking, and inventiveness." (Seneca Academy, 2019).

Fine Art Video: These Abstract Paintings Are Unbelievably Satisfying
Fine Art Video: Elements of Art in Famous Artworks
Some Principles and | or Elements of Art 
Fineart, as I mentioned earlier, is and was developed primarily for aesthetics, beauty and practical utility. However, in some educational institutions and art museums, it is associated exclusively with the visual arts. In this sense, the word 'art' is also often a synonym for this art form.
The arts are a social phenomenon, a means of communication, a human need to express themselves and communicate through shapes, colors, sounds and movements, art is a product or creative act. The ancient Greeks divided the arts into different aspects, the first being those works that communicate with higher senses (vision and hearing), in the absence of physical contact with the observed object.
From the seventeenth century (classical period) the French culture comprised of four arts disciplines taught at the Ecole des Beaux, namely dance, drama, music and visual art. Depending on the country and its history, the concept of this art form varies with its content, and the recognition of new disciplines, such as photography.

According Ricciotto Canudo, cinema art was introduced under the term seventh art in 1914. This art form is also a university degree in some countries, such as Argentina, Chile, Spain and Mexico. In Spain, this degree encompasses conservation and restoration of works of art, design, photography, painting, drawing, engraving, among others.
The term has been used to designate a limited number of artistic disciplines and is still used by schools, colleges and other organizations to indicate a traditional perspective in the art world. This often entails implying an association with classic art or academic art. Besides the beauty, the arts can also entail expressiveness, originality, even ugliness or death itself.
For example, the paintings of Jean Dubuffet and Jean Fautrier associated with the writer Albert Camus and Jean Paul Sartre the philosopher. The term has become obsolete, especially after the advent of the avant-garde of the twentieth century. In Hispanic cultures, this influenced the gains made by visual arts. The controversy over what is art begins with Plato and Aristotle.
Disciplines that are used to make objects that can be useful such as carpentry, pottery, were also ranked according to this approach in the servile arts.

There are different definitions of music: art that combines the sounds according to the principles of melody, harmony and rhythm.
Video: Welcome to the Faculty of Fine Arts and Music
Painting - visual art using pigments mixed with other binders, organic or synthetic substances. It is applied in a certain technique to obtain a composition of shapes, colors, textures, drawing, resulting in a work of art according to aesthetic principles.
Fine Art Video: César Aira Interview: Literature is the Queen of the Arts
"Literature is the queen of the arts – the greatest of them all, because it embraces them all. When you write, you are making music, painting, drawing, cinema." Meet the unique, secretive César Aira in this rare interview. "You will have to travel to the south of Argentina to find the most original, the most shocking, the most exciting and subversive Spanish-speaking author of our time" (Spanish newspaper El País) wrote of César Aira."

Literature - beautiful art whose instruments are words, set in literary compositions of a people, period or genre. Body of work on some art or science. Cinematography - art that has projections of images displayed as movies. One of its qualities is that it contains art images, forms and other relevant features.
Creative Aging Engages Seniors through Art
Creative Aging in the Libraries
"The Creative Aging program is filling a need in the community, and ties well into other library resources offered to older adult learners. This robust package continues to build momentum and has become a key resource for seniors—that's very exciting." (—Terry Kirchner, Westchester Library System Executive Director, 2019).
Video: Creative Aging in the Libraries
From the mid-eighteenth century, the Spanish crown was influenced by European policies promoting arts in academies, schools and studios. This bore fruit in three existing institutions: the Catalan Royal Academy of Fine Arts, the School of Applied Arts and Crafts (Market) and the Faculty of Fine Arts. The same Board of Trade creates more technical studies with the passage of time and other group initiatives elsewhere in the Catalan countryside.
Fine Art | The Deep Meaning
The Emotion Behind it
There is no denying the fact that fine art is broad. We say this because fine art involves music, dance, theater and various fields of designing. Fine art is generally used for aesthetic purposes. 
Mind you, they use the word "fine," but that is not referring to the quality. Instead, the word "fine" is referring to the purity of the discipline.
Think of fineart as the doorway to the world of your emotions, soul, expressions, impressions, intellect and most of all, your heart. If you are an individual who has love for fineart, then this is going to come in handy as we are going to give you a great deal of information on fine art, Your path to the heart and soul. Art is about to learn about how you can learn about yourself.
Art is Good for People of All Ages
Art, regardless of your age, is good for you. Art will invite you as a human to strive forth and grow. Take a toddler and let them do art with you – art can help toddlers build their motor skills.
As an adult, when you view arts, you are relaxing your mind. Have you ever wondered why those who are more in touch with their "artsy" -side tend to be happier in life? Because they use art to escape from time to time, but also to learn from.
Fine Art Video: CHILD ART PRODIGY: He is just nine years old!
"Kieron Williamson stuns the art world with his collection of paintings, which made more than £100,000 after selling out in ten minutes. Report by Sophie Foster."
Expose Your Child to Art
It is interesting to note that for children, the various disciplines of art are of great use. They help to develop skills in learning and with their relationships with others.
Video: Types of Painting - an intro for kids of all ages | Sanger Academy
"A simple illustrated list of the main types, or genres, of Western painting, including portraits, history paintings, religious paintings, mythological paintings, landscapes, genre paintings, still lifes, and abstract paintings. Familiar examples, all non-nude." (Sanger Academy Charter School, 2019).
Communication becomes easier for a child who has been exposed to art. When they carefully observe, their analytical skills develop. Then, they are better able to express their emotions and what is on their minds.
Take photography, for example. It takes a lot of patience to practice it and a lot of practice is also necessary. A photographer will be defined by the area in which they find fulfillment when they take their pictures. A person learning the method needs to know how to go about taking a picture in the first place.
For this, they can do research through books or the Internet to see another people's work. Then, they'll be exposed to the different kinds of equipment used. In this kind of art, the quality is shown from how the picture is composed to when it is produced.
Designing fine art is essential in expressing one's decorative side in the home, office or church. Things like glass, wood, ceramic and even metal can be used to produce sculptures, create effect on glass windows, do pottery work and to make furniture.
For interior design it's important to have a creative mind that is open to trying new ideas and concepts.
---
From the dawn of humanity was the art. Today we read it as - The Dignity of Art. Write a Post About Art and Culture in Your Country!
Yes please, I would appreciate If you write about it and share your thoughts from your country, state, city, region, block, neighbourhood etc. Write about it in general or a specific story about It! Share it with the registered visitors from 50 countries over the world.

Your story will appear on a Web page exactly the way you enter it here.

TIP: Since most people scan Web pages, include your best thoughts in your first paragraph.
What Other Visitors and Participants Have Said
Click below to see contributions from other visitors and participants to this page...

---
---

See You Inside...

... from fine art
bender
to  
Fineart

---