Bender Art Wear

 Bender Art Necktie
Do You Dare to Wear It?
Wear the feeling of satisfaction, pride and uniqueness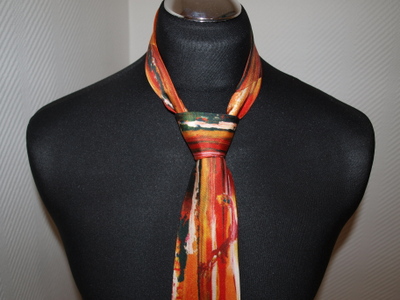 Designed by Bender

 Bender Art Ties – Stylish Wear at its best.
Are you confident enough when you dress up?

Since when formal dresses came into the forefront to create a fashionistic sense in the world, it had its own taste. With the passage of time things quickened up, taking pace to reach out many people with innovative ideas in their dressing code. It's not about just dressing up; it's all about dressing up uniquely.
Be a person who is choosy in dressing.
A person who is choosy in dressing up will also stand out as a different personality with an esteemed identity. Selecting the right and classy wears, serves the purpose. The task doesn't stop with proper selection of what you propose to wear, but the need for comfort arises in all case.  
Bender Art Ties – An answer for you to be unique.
When you see these pieces of art hung in an elegant way in a store, it catches your eyesight and attention more than any other tie brands available. The vibrant mix of colors and their combination is just fantastically woven to create confidence and prioritizing impact on anyone who wears it. This is not just a tie; but it is an artistic tie. The spectrum of colors used with silent depth speaks out more than anything. Be a creative one to try it.
Are you ready to feel the difference?
Any white collar profession demands an outstanding personality and attitude in a person. Bender Art Ties are crafted in such a way so as to allow yourself to be someone different among the competitive professionals today. Art is what you have to feel and know. You have it in Bender Art Ties. Not any scarf or tie bows can replace the sense of satisfaction and uniqueness that Bender Art Ties can only offer.
Bender Art Ties: Offering you the best available quality to be prenominal.
Wearing the perfect Bender Art Ties around your neck is the most attractive and beautiful thing that can boost your self-assurance and intellect. Just try it on to see and feel the magic hidden in the one and only Bender Art Ties. 
---
Dear Kenth!
Thank you for the wonderful book that contained your art, as well as the art of many others.
Very interesting I love your work. And thanks for the two ties as well, very colourful.
Wish you all the best with your work.
Jack Canfield
Co-author of the Chicken Soup for the Soul Series Mr. Canfield has sold over 500 million books and had 47 titles on the best-selling list
---


Premium Bender Art Tie comes in a Beautiful Wooden Box
Title of the Necktie: Earth Wind & Fire - Cityscape
Fabric: Silk
The art necktie is signed on the back by the artist.
Limited edition: Only 40 


---
This is a fantastic abstract piece, the colors really speak to me, reminding me of a hot summer sunset. I would really enjoy a similar piece in opposite colors green, purple, blue scheme and then made into a fabric pattern for a ladies shirt.
Jeff (Kentucky; USA)

This is a beautiful piece of work. The colors are not only contrasting but also complement each other. The theme has a deepening effect.
Subhojit (Bhubaneswar)

The paint strokes look like fire over a city of lights or a molten volcano area with steam vapor springing up from the earth's bowels. Such passion captured in this piece can not be compared to common artists. This work looks very professional. Might I suggest a blue or a green version as well.
Lindsey (Pell City)

---
Share your comments here below
Write your comments here.
What Other Visitors Have Said
Click below to see contributions from other visitors to this page...

---
Back from Bender Art Wear to
Bender Art Necktie 
Index or Site Map

---